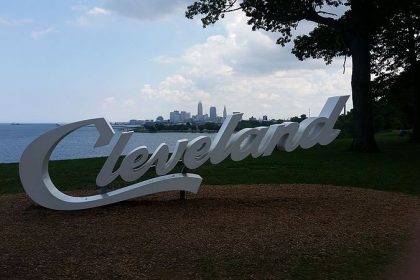 Girl of your dreams? Check. The ring? Check. Parents blessing? Check.  Now that you have accomplished all of that the next question is where are you going to propose? At this point in our little article, I would like to thank Hollywood and Pinterest for all of their epic proposal ideas that have put all this pressure on you to create the most romantic and unique proposal. Seriously, no pressure right? A proposal is something that the two of you will remember forever, so you want it to be special and creative.  So let's get started on the where. Cleveland is hot right now, as it rightfully should be. There are hundreds of spots for you to pop the question and we have taken our time to weed out and select Cleveland's top ten.
A proposal is something that the two of you will remember forever, so you want it to be special and creative.  So let's get started on the where. Cleveland is hot right now, as it rightfully should be. There are hundreds of spots for you to pop the question and we have taken our time to weed out and select Cleveland's top ten.
1.) The Greater Cleveland Aquarium
Dan Langshaw of North Royalton,OH used the help of The Greater Cleveland Aquarium dive team to propose to Marissa and to ask her blessing to adopt her son Henry.  The proposal came as a complete surprise to Marissa who was overjoyed with happiness as she said yes to both the proposal and the adoption. The happy couple tied the knot this past summer and became a family of three. How could you say no to a proposal like that ?  For more information on how to recreate this proposal to fit you soul mate go to http://greaterclevelandaquarium.com/
2.)  The Cleveland Art Museum
The Cleveland Art Museum is a very special place to many Clevelanders especially for Ian David and Sasha Aquino of Lakewood,Oh who had spent so much of their childhood at the museum. The couple who had both graduated with engineering degrees from the University of Toledo had moved out of state to start their careers. They found themselves years later back in Cleveland. They made it a point once they had moved back, and after the museums renovation to visit as often as possible. On December 19th,2015 the couple spent the afternoon sipping on coffee in the museum's cafe and wandered around all the calm and peaceful galleries, taking in all the beautiful artwork and artifacts. They came to one of the interior sculpture gardens as the day was winding down. The sun was starting to set. They took a seat and watched the sun set. They waited some time before Ian said that he had her Christmas gift with him. Sasha joked about how in the world he managed to fit a brand new purse in his pants pockets. That is when he reached into his pants pocket and pulled out the ring. He held it up to her with a smile. It hit her, she felt like she was a kid in high-school again, as she nodded her head with a yes. The high school sweethearts couldn't be happier. The Cleveland Art Museum is filled with beauty and wonder everywhere you look. After reading this couples story, we hope that you consider the Cleveland Art Museum as your proposal location.
3.) The Cleveland Public Library
For the book lover in your life, surround her with all the classic love stories ever written as you create your very own story. The grand entrance of the main library is a beautiful wonder with marble staircases, beautiful ceilings and is a piece of history itself. If she is a chess lover, Cleveland Public Library boasts a large collection of special chess sets on the third floor in the Special Collections section. Maybe she loves a certain genre of books and you'll wander the aisles of books before you get down on one knee and make your own fairy tale. Another option for those who love books and reading outdoors on a warm and sunny day is wander outside to the Eastman Reading Garden and sit near the fountain or under the canopy of blooming trees.  For a proposal your book lover will never forget, head to the Cleveland Public Library.
4.)  Terminal Tower Observation Deck
For the moment that will take her breath away, why not start with a breathtaking view of the city? At the heart of Cleveland, the Terminal Tower is a historical landmark with 360 degree views of the Cleveland skyline. The 52 story landmark began construction in 1926 and finished in 1930 and is filled with historical charm and wonder. The observation deck opens as the weather begins to warm and remains open into the fall months. For more information on the historic Terminal Tower observation deck go to http://www.towercitycenter.com/event/terminal-tower-observation-deck/2145456818
5.) Escape to the gardens in Cleveland's very own Botanical Gardens
If you are a couple who enjoys the outdoors, the Botanical Gardens have an array of 11 picture perfect gardens to choose from. There is a garden for every type of proposal: the Rose Garden is a sweet, romantic place for the early spring. The Japanese and Herb garden are beautifully arranged for a different type of backdrop and the Woodland Garden is perfect in the fall with the changing leaves and hidden benches off the beaten path.  Maybe you are planning for a winter proposal, but wish you could be in a tropical location. Escape the cold and enter right into tropical paradise in Cleveland's own backyard at the Eleanor Armstrong Smith Glasshouse with beautiful indoor gardens inspired by Costa Rican Rainforest and the desert of Madagascar.
6.) Edgewater Park
The Cleveland Metroparks boasts an impressive 23,000 acres of green space, it's no wonder they're considered the Emerald Necklace. Picture perfect locations range from parks- including some right on the shores of Lake Erie, golf courses, and a zoo. So whether you choose to propose in front of the giraffes or on the beach with stunning views of Cleveland and beautiful summer sunsets, you can't go wrong with a Metropark proposal.
7.) Cuyahoga Valley Scenic Railroad
Take a ride on the Cuyahoga Valley Scenic Railroad to set the perfect tone to pop the question. With views of the scenic Cuyahoga Valley National Park, any season you choose will leave you breathless. From the fresh snow in the winter, to blooming flowers in the spring and the change of leaves in the fall, the view of the park will leave you and your significant other speechless. Make the evening extra special by attending one of their many scheduled events. For a list of events and dates go to https://www.cvsr.com/
8.) The Holden Arboretum
Open from April 1st to November 1st, no matter which season, you cannot beat the views at Holden Arboretum. You can stroll through the many trails, lakes and gardens that snake through the park until you come upon the canopy walk which takes you up among the trees. You can then head over to climb the 120ft observation tower that places you above the tree line with views as far as the eye can see. Looking to make the proposal extra special? Plan your special event at http://www.holdenarb.org/home/
9.)  The Velvet Tango Room
Travel into the past with this local speakeasy. This classy, upscale bar offers reservations in their private back room with a piano player playing songs upon request. Make the night an evening that she will never forget and have all your family and friends there to witness the proposal. This local spot is known for its specialty cocktails and making each drink from scratch, so sit back and relax as you celebrate a memorable night with loved ones.  They've been waiting for you.
10.) Tribe Fans?
Is your lady a Tribe or a Cavaliers fan? If she is, marry her like yesterday! Proposing at your favorite pro sport game is a classic and timeless way to propose, by showing your support for your team and the love of your life.  With the way the Cleveland Indians and the Cavaliers have been playing, you can't lose proposing at a home game.
Alright Clevelanders, now we want to hear from you! Do you have an epic or remarkable engagement story that took place in the city that rocks? If so, we want to hear all about it! Post your story in our comment section below or tag us on Instagram @bluestonetrading for a chance to be featured in our next blog and on our Facebook page!