Trading Tip: Use these jewelry photography tips to take amazing photos to post on social media and your website!
Taking high-quality photos may seem like a daunting task, but with these quick jewelry photography tips and a little practice, you'll be taking great photos your customers will love in no time!
---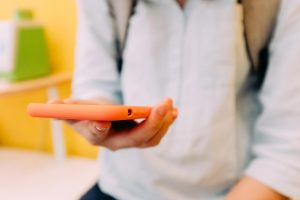 Do I need an expensive camera?
No! In fact, you likely already have the camera you need in your pocket! That's right, take out your smartphone and start taking amazing photos today.
When taking photos of your inventory to post online, try to put yourself in the shoes of your customers. As you are scrolling through social media or a website, are you likely to stop for one small, blurry, out of focus picture? No, but you will stop for a gallery or collage of sharp, focused, well-lit photos of beautiful jewelry!
---
Focus
Focusing your lens onto the subject is the first step in getting the perfect photo. With smartphones, this is typically done automatically. But when looking at your phone screen before snapping the shot, if the item is blurry, try moving closer or further away, or tap the item to bring it into focus
---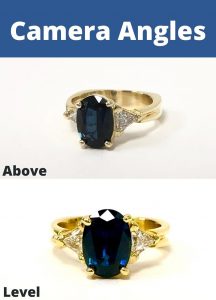 Camera Angles
To drastically improve your photos, align your lens with the center stone of the jewelry.
Pro Jewelry Photography Tip: Lower your camera/phone, so that you are looking at the jewelry through the lens head-on. This will feel weird at first, but try to be at eye-level with the jewelry when taking photos.
---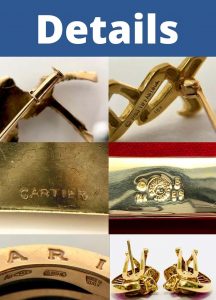 Photograph Important Details
When making a luxury purchasing decision, customers want to be as informed as possible. You can help them by taking photos of important details, such as maker's marks, clasps, backings, and other details that can add value.
Pro Jewelry Photography Tip: Use a loupe or magnifier to take these photos.
---
Multiple Angles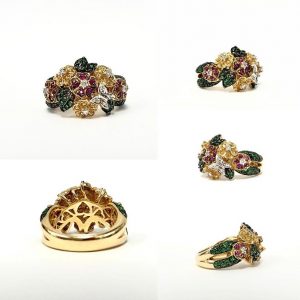 It is important that when browsing your website or social media, a potential buyer can view each item from many angles.
Pro Jewelry Photography Tip: If you cannot post several photos as a gallery, bring them together in one collage! These can be put together on many free apps and websites. For this image, we used the free version of Canva.
---
Lighting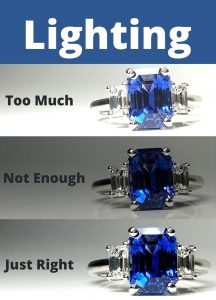 Lighting is extremely important when taking photos of gemstones, diamonds, and precious metals.
Too little lighting can make your diamonds and gemstones look dark. Too much direct lighting can make them look washed out!
Pro Jewelry Photography Tip: Avoid taking photos of jewelry in direct sunlight. Try for a bit of shadow or diffuse the light so it is softer.
---
For all your diamond and estate jewelry needs call or text us at 440-442-7280. You can also call toll free at 888 800-BLUE. To be the first to know about our Trading Tip of the Week such as How to Host a Facebook Live Jewelry Sale , How to Create a Facebook Business Page, and How to Build an Email List, as well as Bluestone's latest news, subscribe to our newsletter.